Monday, November 6
07:00PM

LABZIK: TALES OF A CLEVER PUP – IN-PERSON EVENT

Adapted from a book of children's stories by Yiddish author Chaver Paver,Labzik: Tales of a Clever Pup follows the (mis)adventures of a clever mutt named Labzik and the working-class Jewish family that adopts him. Balancing playful humor with gritty realism, the stories find Labzik and the other residents of the Bronx up against social and political forces that are no less relevant today: unemployment, political protest, racism, police brutality, even an airborne disease. This trilingual Yiddish-English-Yinglish short film is produced in cinematic "miniature theater" style, employing lavishly illustrated paper puppets to evoke the ink illustrations of the 1935 original.

The film features narration adapted from Miriam Udel's new English translation, and Yiddish dialogue from Chaver Paver's original text. A cast of both student and professional voice actors brings the characters and stories to life, including award-winning Yiddish actor Shane Baker. The film also features original music by Klezmer greats Michael Winograd and Jake Shulman-Ment and singing by Lisa Fishman and Mikhl Yashinsky of off-Broadway's Fidler afn Dakh (Yiddish Fiddler on the Roof) and Lorin Sklamberg of the Grammy award-winning band The Klezmatics.

Join YIVO for a screening of this film followed by a Q&A with director Jake Krakovsky and translator Miriam Udel.

Ticket Info: $10; YIVO & CJH members: $8
Thursday, November 9
06:30PM

HEREVILLE: A NEW JEWISH MUSICAL – IN-PERSON EVENT & LIVESTREAMED ON YOUTUBE
Book by Robby Sandler with Jess Kaufman
Music by Lizzie Hagstedt
Lyrics by Robby Sandler
Directed by Laura Brandel
Based on the award-winning (and 2023 JewCie-Award-nominated) Hereville graphic novels by Barry Deutsch, this female-driven, family-friendly musical follows Mirka, an 11-year-old girl in a small Orthodox Jewish town. When Mirka meets a witch in the woods, she triggers a series of events that force a reckoning with the memory of her mother, her fractious relationship with her stepmother, and a meteor that could destroy Hereville altogether!
At its core, Hereville is a musical for family audiences; a love story between a stepmother and stepchild as they navigate the formation of their blended family. Rated PG for scary situations and content relating to grief and loss.
Ticket Info:
In person: $15 general; $14 seniors/students; $12 CJH members; register here
On YouTube: Pay what you wish; register here
Saturday, November 11
07:30PM

JewCie Awards Ceremony

Join the JewCie Judges, Nominees, and titans of the industry for the first ever JewCie Awards! Tickets limited and on sale now!
Sunday, November 12
Jewish Roots of the Comic Industry
10:00AM

Auditorium

Superman and Batman were created by the children of eastern European Jewish immigrants! So were the Avengers and the X-Men! And the genre of non-superhero graphic novels like Maus was also largely jumpstarted by creators of similar backgrounds. Today, Hebraic historians discuss the Jewish roots of comics, maybe, along the way, dispelling some of the creation myths that have been passed down through time. Join Arie Kaplan (From Krakow to Krypton), Roy Schwartz (Is Superman Circumcised?), Simcha Weinstein (Up, Up and Oy Vey!) and moderator Danny Fingeroth (Disguised as Clark Kent) as they dig deep into comics' Genesis.
Featuring
---
Jewish Folklore in Comics
10:00AM

Kovno Room

As a uniquely visual mode of Jewish storytelling, graphic novels that deal with Jewish historical topics often delve into the realm of folklore to broaden the cultural reach of their work. This panel will look at the ways in which Jewish graphic novelists engage with folklore and history in their work.
Featuring
---
From strength to strength: Jewish superheroes through the ages!
11:30AM

Auditorium

From Superman's Jewish metaphor to the Thing's "conversion" to Judaism to Kitty Pryde's proud Jewishness to Harley Quinn's, um, whatever's going on there—Jewish context, themes, and identity have been part of superheroes from the very start. Join moderator Roy Schwartz and industry superstars Frank Miller, Brian Michael Bendis (via Zoom), Dean Haspiel, and E. Lockhart for a lively discussion on the history and meaning of super mensches and maidels!
Featuring
---
Queering Jewish Comics
11:30AM

Kovno Room

What might it mean to queer Jewish comics? In this panel, we will explore the works of comics creators who have challenged normative notions of Jewish identity and belonging, particularly in relation to gender and sexuality, by experimenting with elements like form, style, characterization, and storytelling convention. Our panelists will discuss their experiences of shaping Jewish characters and stories to expand ideas of what Jewish comics storytelling can look like, and what it can say.
Featuring
---
Breaking the Mainstream: Getting past Ashkenormativity and Secularism in Comics
1:00PM

Auditorium

There's a lot of different Jews and Judaism out there, why does so little of it make it into the comic book page? Join us for a thought-provoking discussion about Ashkenormativity and secularism in comics with four boundary-pushing and mold-breaking authors. We'll explore why they choose to tell the stories they tell, and how they grapple with the inevitable challenges that come with introducing an "unfamiliar" Judaism to their readers.
Featuring
---
Kids Comics for Mini Mensches
1:00PM

Kovno Room

What does it mean to make a Jewish comic for kids (or a comic for Jewish kids, which isn't necessarily the same thing)? Join us – kids very much encouraged! – to ask these questions and others of some of the best kids' comics creators working today; and we might just have some drawing challenges…
Featuring
---
Canons are Made to Blow Up! Retconning, Rebooting, Jossing, and other Paradigm Shifts
2:30PM

Auditorium

This panel will bring together comic creators to discuss continuity changes withing long-running comics. From multiversal reboots to undo something, to revealing new character information that may reshape older events, to taking characters in a direction opposite to those of popular fan theories the dynamically open canon format of comics means that all sorts of changes can and do take place.
Featuring
---
Jewish Comics and Remembrance Culture
2:30PM

Kovno Room

Comics have become a recognized medium for engaging with Jewish history, Holocaust narrative, and personal memory/narrative.  Join our panelists and moderator Samantha Baskind to talk about the role of remembrance culture in Jewish comics.
Featuring
---
Will Eisner: the First Poet Laureate of the Jewish Graphic Novel
4:00PM

Auditorium

Will Eisner was a ground-breaking comics creator in the 1940s with THE SPIRIT, and then again in the 1970s with his powerful A CONTRACT WITH GOD serving as the breakthrough modern graphic novel inspiring a generation of writers and artists. It was the first of a series of graphic novels he created focusing on life in the Jewish immigrant communities of New York in the early 20th Century. His name lives on in the Eisner Hall of Fame and Eisner Awards, the most prestigious honors in the field. More importantly, his creative influence continues to be felt through his proteges, students and readers. Join Paul Levitz (author of WILL EISNER: CHAMPION OF THE GRAPHIC NOVEL and Eisner Hall of Fame inductee for his long career as a comics writer, editor, publisher and educator) and former Eisner assistant Jules Feiffer (Pulitizer, Oscar, Obie and Eisner Hall of Fame inductee) for a discussion of Eisner and his continuing relevance.
Featuring
---
Telling other People's Stories
4:00PM

Kovno Room

Who gets to write the story of a people, person, or event?  How can you approach a historical or contemporary story that isn't your own with empathy, understanding of the subject, audience, and your own influence as a creator?  Join us to hear from a group of creators who have approached this craft from multiple vantages and hear their take on the nuance and subtlety of retelling.
Featuring
---
Jewish Female Narratives in the Graphic Arts
5:30PM

Auditorium

Join an amazing group of female creators to consider issues of gender and Jewishness in personal narrative. Panelists will discuss how gender and creed does or doesn't, should or shouldn't, inform their storytelling. They will also explore if and how their decisions change depending on whether the stories are creator-owned or with licensed characters, or if they are working with collaborators with differing backgrounds.
Featuring
---
Holy Graphic Novels!
5:30PM

Kovno Room

It's A Bird! It's A Plane! It's… Moses! And Miriam, and the Maccabees, and the Megillah… and all of our sacred texts and heroes (and not just the ones that start with the letter M!). They're being given renewed life and attention in Jewish comics and graphic novel—and now, for the first time ever, you can thrill to the amazing adventures of their talented creators—both commercial and cutting edge—as they reveal the secret origins of their art and careers!
Featuring
Jump into Drawing Comics!
10:00AM

Discovery Room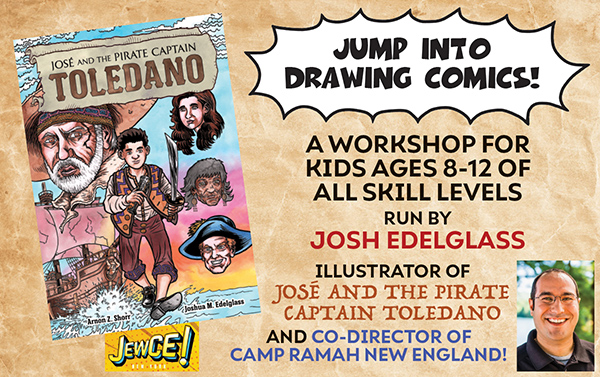 Let's draw! Join illustrator Josh Edelglass for this fun workshop exploring the magic of comics!  We'll investigate how comics work and uncover the special language of comics through a series of fun cartooning exercises.  Then, every participant will get to draw a short one-page comic of their own!  This workshop is designed for kids ages 8-12 and all skill levels.
Featuring
---
Torah Comic Workshop
1:00PM

Discovery Room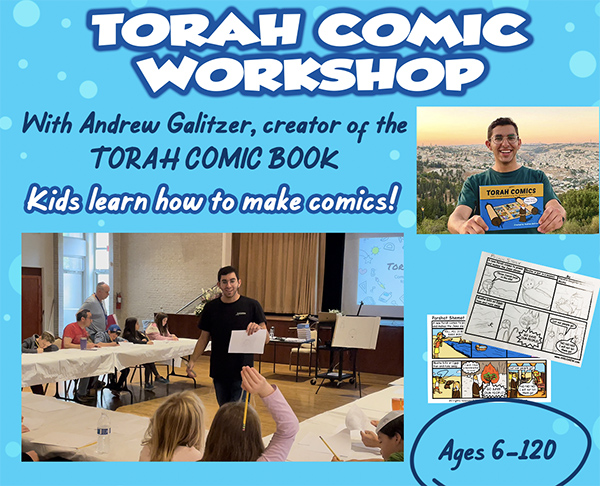 Kids learn how to make comics!
Featuring
---
From Perek to Panel: Using Pictures to Explore Interpretation
2:30PM

Discovery Room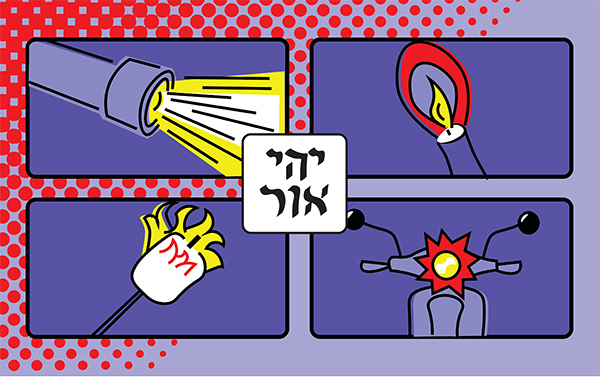 We will explore how pictures can elaborate on Jewish texts. Just as the interpreters added, explained, and enriched stories, we will use their ideas – and some of our own – and learn together. When pictures are placed next to words, they can illustrate what is happening, but they can also provide more. That is what we will explore. Ages: teens to adulthood.
Featuring
---
Jewish Comics Trivia Game: JewCE Edition

11:30AM

Session 1 – Discovery Room
4:00PM

Session 2 – Discovery Room

Are you a Jewish comics maven?  From Superman to Maus to (yes) Daffy Duck, test your knowledge of Jewish comics in this challenging trivia game for fans of all ages, hosted by comics writer Sholly Fisch (Action Comics, The Batman & Scooby-Doo Mysteries).  Win prizes for the top scorers, kvell over your hits, and plotz over your misses, with brain-tickling fun for one and all!
Featuring
Israeli Defense Comics Table
FREE Original Art Sketch! Joshua H. Stulman, creator of Israeli Defense Comics will be offering FREE head sketches of your favorite comic characters to all JEWCE attendees at his booth. Artwork is drawn on the spot and available all day while supplies last.
---
Display of Vayikra Mural
Q&A, signing, and guide from artist Barbara "Willy" Mendes.