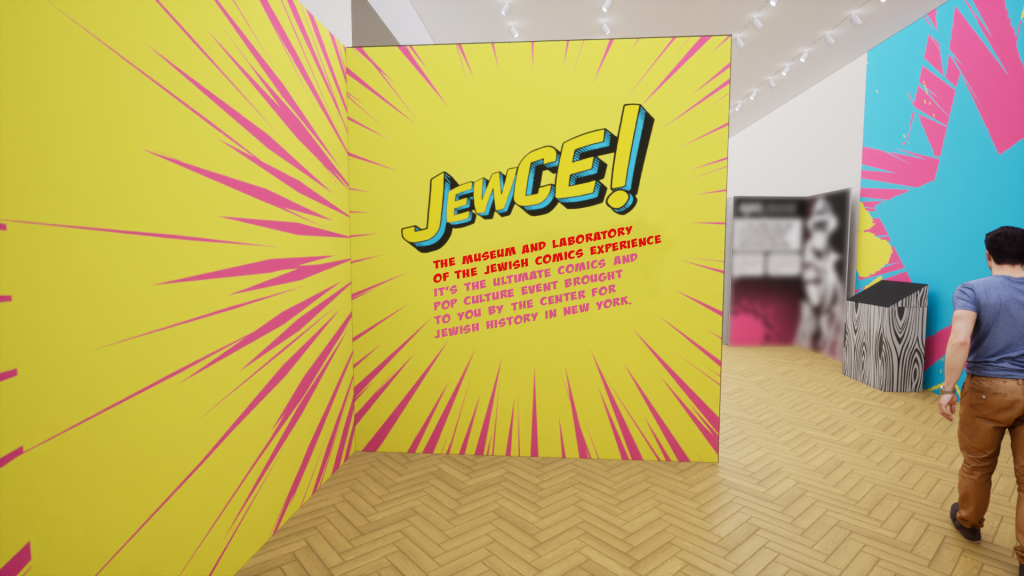 JewCE introduces young people to comics as an artform through the JewCE comic exhibit (and interactive comics laboratory), our featured speakers, and the in-person or virtual convention. While featuring Jewish themes and creators, every aspect of JewCE is meant for people of all backgrounds and crafted in a way that is accessible across a range of ages and identities.
As part of our JewCE package for schools, we hope you will join us in the following ways!
What:
The Center for Jewish History is opening a new immersive and hands-on exhibit showcasing the diversity of Jewish life, history, tradition, and identity through comics. The exhibit is presented in two parts: a multimedia Museum of the Jewish Comics Experience and an interactive comics laboratory.
Young people receive access to discussion and reflection questions for self-guided engagement with the exhibit.
Educators receive a guide with follow-up discussion guides and project ideas for classrooms, youth group gatherings, and more.
Who:
Age Group: 3rd grade through high school, age-accessible guides for elementary, middle, and high school-aged young people.
Capacity: Up to 25 young people. Recommend 1 adult chaperone/every 10 young people.
Why:
By attending the JewCE exhibit…
Young people will be able to explore the diversity of Jewish identity, history, and tradition as told through comics.
Young people will be able to reflect on their own identity and unique experiences and engage in elements of comic creation to understand sequential art and storytelling.
Educators will be able to utilize discussion guides to engage young people in topics related to the exhibit both during and after the tour.
Get a free virtual pass to the convention by bringing a group to the museum and booking a speaker for your group (in-person or virtually).
When:
Who:
Age Group: Each proposed talk/workshop specifies an ideal age group.
Capacity: Unlimited.

Why:
By booking a JewCE speaker…
Young people are introduced to the exciting world of Jewish cartooning, pop culture, and comics. They gain insights into the creative process, learn about the rich history of Jewish contributions to the arts, and discover the impact of Jewish stories on popular culture by top industry leaders.
Get a free virtual pass to the convention by booking a speaker and bringing a group to the museum.
When:
To qualify for the free virtual pass to the convention, book your speaker by October 1.
Many JewCE Speakers are NYC natives, but many of those from far away plan to be in attendance the week leading up to the convention (November 5-11). This is the ideal week to have them join you in person.
Take a look at our Speakers Collective and their workshop topics!
What:
The JewCE convention will be a full day of panels, workshops, and more.
Who:
All of NYC!
Why:
By virtually attending the JewCE convention…
Young people meet creators and industry professionals who showcase a range of experiences through comics and engage in conversations around their own identity.
Educators are offered a unique and creative medium for teaching young people about Jewish identity, arts, and history.
When:
  Sunday, November 12th, 2023  from 10am – 6:30pm ET
Order your virtual passes today!

NEXT STEPS
Schedule your school visit: Email Julie Kaplan at jkaplan@cjh.org ASAP to reserve your spot.
Book your speaker by contacting them directly via the email shared in their bios.
Interested but have questions? Contact us!